| | |
| --- | --- |
| | Your Most Trusted Source of Foreign News and Views About the United States |
Tunis Hebdo,
Tunisia
A Method to Bush's Madness?


By M'Hamed Ben Youssef

Translated By Mike Goeden

September 11 – September 17 Issue
Tunisia - Tunis Hebdo - Home Page (French)
One after the other, two books have recently appeared in America that consider the U.S. confrontation with the Middle East and its undeclared, expansionist policy of seeking to dominate the region, with its immense oil wealth and its vital strategic importance.
In An Alliance Against Babylon: The US, Israel and Iraq, brilliant journalist and ABC News correspondent John Cooley not only denounces his country's ruinous strategic error, but also reveals that the occupation of Mesopotamia was dictated beforehand by religious and historic considerations dating back to antiquity. He notes in passing that the attack and occupation of Iraq were thus decided upon by the Republican Israeli-conservatives well before September 11, 2001, with the purpose of avenging the Jews for their poor treatment at the hands of King Nebuchadnezzar [II] between 604 and 562 B.C.
There are many such tales and legends, at times taken from the Torah
, that continue to erroneously guide America's obsessed, evangelistic right-wing. In this manner, Tel Aviv has managed to plunge the country of the Tigris and Euphrates [Iraq] into a terrifying chaos, at no expense to itself. Rather, it has done so with the ruinous human and financial help of its overlord Bush, backed by Blair. Iraq under Saddam Hussein - before his unjust and dramatic occupation of Kuwait - had been rightly considered the most advanced Arab state in most areas (including sophisticated weaponry, which displeased Israel, especially with regard to its security). Now that this "conceited, but deranged, head has fallen," the Zionists are now eyeing Ahmadinejad's Iran!
The second book, Never Quit the Fight, hit the shelves July 10. Its author, Colonel Ralph Peters, a former intelligence specialist and the author of several articles on strategy published in the "Armed Forces Journal," discusses, among other things, the road map developed by the Republican hawks in collaboration with the ultra-Zionists for a contained, "New Middle East."
This American strategic project is the brainchild of a small group of neoconservatives, including Norman Podhoretz, Richard Perle and Israeli Nathan Sharansky. On the whole rejected by the majority of Arab-Muslims, these "foundations for the future" are also variously presented as the "Wider Middle East," the "Greater Middle East" and the "Partnership for the Future."
The goal demanded by the U.S.-Israel warrior brain trust: remodel this entire area of the world according to their own mercantilist vision, by partitioning the region along religious lines - essentially Shiite and Sunni. These two groups are meant eventually to counterbalance one another, thanks to or because of each side's nuclear bombs - those already held by Pakistan, thanks to Arab petrodollars, and those nearing completion in Iran, where nothing seems to stand in the way of its light-hearted march toward mastering the splitting of the atom, for both peaceful and concealed military purposes.
Therefore, according to the ultra-conservatives, certain states must disappear, be redefined or be divided, while others are created, merged or expanded [SEE MAPS AND ARTICLE BELOW]. This new map of the Arab-Muslim world now developing - which, however, doesn't take into account that area stretching from the Maghreb [North Africa] to Egypt - is being "methodically" pieced together along religious and ethnic lines. Ralph Peters sees no other viable alternative for the Near East than its being split up into separate Sunni, Shiite and Kurdish states. To bring peace to the region, he proposes establishing an Islamic state resembling the Vatican, which would incorporate Mecca and Medina and manage Islamic movements and schools throughout the world. Here are a few of his proposals concerning this redrawing of the Middle East map: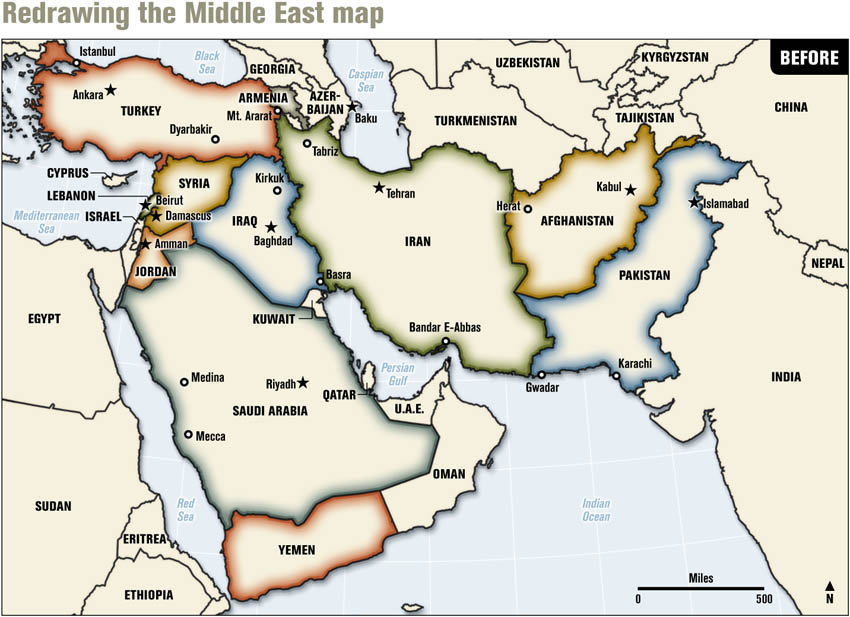 Before and After maps of some American plans for a New Middle East.


[CLICK FOR LARGER VERSIONS] (above and below)



Blood Borders By Ralph Peters
-------------------------------------------------------------------------------------
-- Gather together Iraq's three largest Sunni regions into a single state free to join Syria.
-- Transfer Syria's coastline to the "State of Greater Lebanon," thereby reinvigorating the Phoenician State [Lebanon].
-- Make southern Shiite Iraq the hard core of a Shiite-Arab state, stretching all the way to eastern Saudi Arabia.
-- Create an independent Kurdish state called Kurdistan, stretching from Dierbakir to Tabriz (incorporating Iraqi Kurdistan, as well as parts of Syria, Turkey, Armenia and Azerbaijan), and which Peter sees as likely to become the most pro-Western state "from Bulgaria to Japan."
This project, which for the most part remains rather vague and completely theoretical - continues to prove undoable except at the tip of a bayonet, as oil-rich southern Sudan [Darfur] has shown. It's armed Christian population - for decades led by the charismatic John Garang (killed in a plane crash
) and supported by the Pentagon - have finally succeeded in wresting from the government a legally-binding secession within the next five years, following a purely formal referendum.
Above all, the plan amounts to a justification for attempting to eliminate all Arab resistance armies, beginning with Hamas and Hezbullah. But as it turned out, the Israeli Defense Forces, Washington's military arm, has broken its teeth on this particular bone. What a waste!
Egyptian political scientist Mohammed Al-Sayed argues: "Under the pretext of spreading democracy, this project (of dismantling the Middle East) is a sort of neocolonialism that consists of destroying and then rebuilding pro-American States. How, with all this slaughter, can a democratic region be built?"
Ralph Peters, author of Never Quit
the Fight and a recent essay entitled,
Blood Borders, where he discusses
redrawing the map of the Middle East.



Blood Borders By Ralph Peters
Interview With Ralph Peters
-------------------------------------------

And according to analyst Chaima Abdelhamid: " For the Americans, in effect all of the destruction in Palestine, Afghanistan, Iraq or again in Lebanon is just a way of applying chaos theory to the region, a theory which seeks to spread democracy through disorder."
Fortunately, the Taliban in Afghanistan have perked up, the Jihadis in the country of the Tigris and Euphrates are giving the evil alliance a very hard time, and Anglo-American losses, after three years of occupation, total (according to credible sources) almost 10,000 killed, to which must be added the same number of deserters, including 5,000 American soldiers having fled to Canada. A real catastrophe!
Indeed, what with the thunderbolt provoked by the heroic resistance of the Party of God militias [Hezbullah] during thirty-three straight days, it amounts to a veritable volcano! Weren't they capable of repelling the advance of the "invincible" Israeli fighters in southern Lebanon, despite an all-out offensive consisting of ferocious bombardments? The Lebanese victory which is also a moral victory, arrived just in time. It's sure to send the pundits of the American-Zionist-Orthodox right scurrying back to their desks to revise their miserable work.
French Version Below
Le désordre pour démocratiser
Coup sur coup, deux ouvrages traitant de la confrontation des Etats-Unis au Proche-Orient et ses réelles visées expansionnistes afin de mieux dominer cette région immensément riche en pétrole, matière stratégique vitale de premier ordre, viennent de paraître en Amérique.
Dans l'«Alliance contre Babylone, les USA, Israël et l'Irak», écrit par un brillant journaliste et correspondant d'ABC News, John K. Cooley, l'auteur s'insurge non seulement contre l'erreur stratégique ruineuse commise par son pays, mais révèle que l'occupation de la Mésopotamie a été dictée avant tout par des considérations religieuses et historiques datant de l'Antiquité. Il fait remarquer, au passage, que l'attaque de l'Irak et son occupation ont été ainsi décidées par les Israélo-conservateurs républicains bien avant le 11 Septembre 2001. Il s'agissait de venger les Juifs des mauvais traitements infligés de la part du monarque Nabuchodonosor entre 604 et 562 avant J.C.
Ce sont de pareils contes et légendes parfois rapportés dans la Torah qui ne cessent de guider, mais en mal, la droite évangéliste et fascisante américaine.C'est ainsi que Tel-Aviv est parvenue sans aucuns frais, sans tirer aucune balle —mais grâce à la contribution directe humainement et financièrement ruineuse de son suzerain Bush secondé par Blair— à foutre une terrifiante pagaille dans le pays du Tigre et de l'Euphrate. Alors que sous Saddam Hussein, avant son injuste et dramatique occupation du Koweït, l'Irak était considéré à juste titre, comme l'Etat arabe le plus évolué dans la plupart des domaines, y compris dans celui de l'armement sophistiqué, ce dont Israël prenait ombrage, particulièrement eu égard à sa sécurité. Et maintenant «qu'une tête pleine mais forcenée est tombée», les sionistes lorgnent fort du côté de l'Iran de Ahmadinjad !
Le second livre «Never quit the fight» (Ne jamais abandonner le combat) est paru le 10 juillet 2006.Son auteur, le Colonel Ralph Peters, ancien spécialiste des renseignements et auteur de plusieurs écrits en matière de stratégie parus dans la revue militaire «Armed Forces Journal», traite, entre autres, de la feuille de route conçue par les faucons républicains en collaboration avec les ultra-sionistes pour un «nouveau Proche-Orient» délimité.
Ce projet stratégique US est l'œuvre d'un petit groupe néo-conservateur comprenant Horman Podhoretz, Richard Perle et l'Israélien Nathan Sharansky.Globalement rejetés par la majorité du monde arabo-musulman, ces «fondements de l'avenir» sont présentés aussi sous d'autres terminologies comme «Le Moyen-Orient élargi», le «Grand Moyen-Orient» ou «Partenariat pour l'avenir».
But recherché par le brain-trust guerrier américano-israélien : remodeler toute cette région du monde, selon leur propre vision mercantile, par un partage confessionnel dominé essentiellement par les chiites et les sunnites. Ceux-ci sont appelés à se mesurer, un jour, les uns contre les autres grâce ou à cause de leurs bombes nucléaires respectives, celles détenues déjà par le Pakistan, suite à un financement arabe provenant des pétrodollars et celles en préparation avancée de la part de l'Iran dont rien ne semble bloquer la marche allègre vers la maîtrise de l'atome à des fins pacifiques et militaires inavouées.
Ainsi, d'après les desiderata des ultra-conservateurs, de nouveaux Etats sont appelés à disparaître, à être redéfinis ou à être partagés, alors que d'autres doivent naître, fusionner ou s'agrandir.Cette nouvelle carte en gestation du monde arabo-musulman, faisant, toutefois, exception du Maghreb jusqu'à l'Egypte, est échafaudée «méthodiquement» pour aboutir à un partage confessionnel et ethnique. Ralph Peter «ne voit de salut pour le Proche-Orient qu'à travers sa désintégration en plusieurs Etats : sunnite, chiite et kurde.Pensant trouver un remède à la violence, il propose l'établissement d'un Etat islamique constitué de la Mecque et Médine, qui ressemblerait au Vatican et à qui reviendrait la gestion des mouvements et des écoles religieuses à travers le monde.Voici certaines des propositions relatives au découpage du Proche-Orient :
-- Regrouper les trois plus grandes régions sunnites irakiennes dans un seul Etat libre de s'unir à la Syrie.
-- Défaire la Syrie de son littoral pour l'intégrer à «l'Etat du Grand Liban», redonnant ainsi vie à l'Etat phénicien.
-- Faire du sud de l'Irak chiite le noyau dur d'un Etat chiite arabe qui s'étendrait à l'est du Royaume saoudien.
-- Créer un Etat kurde indépendant, le Kurdistan, qui s'étendrait de Dierbakir à Tabriz (incluant le Kurdistan irakien, des parties de la Syrie, de la Turquie, de l'Arménie et de l'Azerbaïdjan), et dans lequel Peters voit l'Etat le plus favorable à l'Occident, de la Bulgarie au Japon».
Ce projet, qui reste dans son ensemble assez flou et tout en théorie, ne cesse de s'avérer inapplicable sauf par l'usage des baïonnettes, à l'instar du Sud Soudan, riche en pétrole. Ses populations chrétiennes en armes menées, des dizaines d'années durant, par le leader charismatique John Garang (tué dans un accident d'avion) et soutenues par le Pentagone, sont parvenues à faire, finalement, une sécession légalement promise d'ici cinq ans après un référendum de pure forme.Il s'agit, avant tout, de tirer des prétextes afin de tenter d'éliminer toutes les résistances armées arabes en commençant par le Hamas et le Hezbollah.Toutefois, celui-ci s'est avéré être un os sur lequel Tsahal, le bras armé de Washington, s'est brisé les dents.Quel gâchis !
Voici ce que note à ce propos Mohamed Al-Sayed, un politologue égyptien : «Sous prétexte de démocratie, ce projet (le démantèlement du Moyen-Orient) est une sorte de néocolonialisme qui consiste à détruire puis à rebâtir des Etats pro-américains.Comment, à travers tous ces massacres, peut-on créer une région démocratique ?».Et Chaïma Abdelhamid, analyste, d'avancer de son côté : «Effectivement, toutes les destructions en Palestine, en Afghanistan, en Irak ou encore au Liban ne sont pour les Américains qu'un moyen d'appliquer leur théorie du chaos qui vise, selon les Américains, à créer un désordre pour démocratiser».
Heureusement que les Taliban en Afghanistan ont repris du poil de la bête, que les Djihadistes au pays du Tigre et de l'Euphrate en font voir de toutes les couleurs à l'alliance du mal et les pertes anglo-américaines, après trois ans d'occupation, totalisent, selon des sources crédibles, près de dix mille tués auxquels il faut ajouter autant de déserteurs, dont cinq mille ayant fui au Canada.Une véritable catastrophe !
Quant au coup de tonnerre provoqué par la résistance héroïque des milices du Parti de Dieu, trente-trois jours durant, ce fut un véritable volcan ! N'ont-ils pas su et pu repousser les avancées, au Liban Sud, des faux-invincibles guerriers de Tsahal et cela, malgré les multiples féroces bombardements tous azimuts. Une victoire libanaise, morale aussi, est arrivée à temps. Elle est destinée à renvoyer, dare-dare, les maîtres penseurs de la droite orthodoxe américano-sioniste à leurs études pour plancher longuement sur leur très mauvaise copie.
M'Hamed BEN YOUSSEF