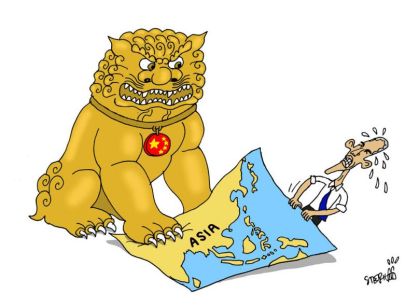 The Nation, Thailand
[Click Here for More Nation Cartoons]
Aquino Defense Pact with Washington 'Unconstitutional' (Manila Times, The Philippines)
"For this 10-year agreement security agreement, which binds our country beyond his term and conscripts the nation as a cog in imperial America's global defense network, and obviously not without risk, President Aquino didn't even bother to consult the Senate, even though the Constitution requires Senate approval of all treaties entered into with other nations. ... Nice job, President Aquino. We just raised the tension a few notches between our country and China. I hope we get something out of it."
By Rigoberto D. Tiglao
April 30, 2014
Philippines - Manila Times - Original Article (English)
Former Philippines President Corazon Aquino: By circumventing the Philippine Senate, has her son, President Benigno Aquino, done what she failed to do - get the United States military to return?
What the Senate stopped his mother from doing 20 years ago, President Aquino has managed to do today: Incorporate the Philippines into the global military strategy of the United States.
In 1991, President Cory Aquino tried hard to reach a new security treaty with Washington allowing it to maintain its military bases, primarily the one in Subic Bay which had been one of the U.S. Pacific Fleet's strategic bases. The Senate, however, despite Aquino's overwhelming popularity and political power at that time, rejected her demands, after which she even tried a mini-People Power street action.
Her son Benigno the 3rd, now president, didn't even bother seeking Senate approval, instead having his defense secretary sign what's called the "Enhanced Defense Cooperation Agreement" with the U.S. ambassador.
For this 10-year agreement, which binds our country beyond his term and conscripts the nation as a cog in imperial America's global defense network, and obviously not without risk, Aquino didn't even bother to consult the Senate, even though the Constitution requires Senate approval of all treaties entered into with other nations.
As of this writing, the treaty hasn't even been made public. What the Department of Foreign Affairs has released is merely sanitized "question and answer" material with references to provisions of the treaty that don't even support its assertions.
It's mostly a propaganda sheet, and we can't be sure if it accurately interpreted the agreement's provisions. For example, the Q&A emphasized, as if to say the people want it: "A recent Social Weather Station survey showed at least 7 out of 10 Filipinos support measures to strengthen the country's defense capabilities and that the Philippines may ask its partners in achieving this objective."
It's no wonder Senator Miriam Defensor-Santiago, who chairs the Senate Foreign Relations Committee, was irked and exclaimed, "The Senate has not been given the courtesy of being furnished a copy. I feel as if I have been slapped or ordered to melt into the wallpaper."
If she were told who undertook the negotiations with the U.S., the senator would go ballistic.
Second rate negotiators
The Philippine panel was headed by Defense Undersecretary Pio Lorenzo Batino, who appears to have had such a mediocre career that other than the fact that he was appointed to the post weeks after Aquino assumed office in 2010, there isn't any background on him on the Internet.
The other members of the negotiating panel were Ambassador Lourdes Yparraguirre, Ambassador Eduardo Malaya, Justice Undersecretary Francisco Baraan 3rd, and defense assistant secretary for strategic assessments, Raymund Jose Quilop.
Ambassadors Yparraguirre and Malaya are mere fixtures. Yparraguirre is our current ambassador to Austria, and Malaya to Malaysia. They were given the additional task as members of the panel when Assistant Foreign Secretary for American Affairs Carlos Sorreta was suddenly yanked off the panel last month.
Having scant expertise in military affairs or treaties, and joining the panel only several weeks ago, the two ambassadors were obviously mere rubber stamps for the pact.
Widely known to be sympathetic to the United States, having been educated and assigned there, Sorreta, though, is known to relish going over things with a fine toothcomb.
Was he yanked away to speed up the pact before Obama's scheduled arrival the following month? Indeed, U.S. Ambassador Philip Goldberg had to deny to the press that Sorreta's axing was to get the draft pact finalized.
So these are the people who negotiated a military treaty with a superpower?
In contrast to the Philippines, the U.S. negotiating panel was headed by Ambassador Eric John, who is the State Department's Senior Advisor for Security Negotiations and Agreements at the Bureau of Political-Military Affairs. John is known as America's principal officer for international security arrangements and treaties. U.S. Ambassador Goldberg, a former state undersecretary for intelligence with a reputation for playing hardball, was rushed in to add muscle to the U.S. negotiating team.
Like Worldmeets.US on Facebook
The fact that the agreement was rushed for President Obama's visit tour is obvious since as of yesterday, the Defense Department's Web site still had only one piece of news on it: "PH-U.S. to resume talks on enhanced defense cooperation."
The most important part of the treaty - at least going by the verbal calisthenics of Aquino and his officials and the "Q&A" issued by Foreign Affairs, is that the U.S. military will be permitted to build facilities within Philippine military camps to warehouse supplies and war materiel (except for nuclear weapons) to "pre-position" it and for the troops. As the Q&A put it, to enter the country "on a temporary and rotational basis that will be held in Armed Forces of the Philippines' facilities."
Aquino officials claim that crucial provisions like these show that the U.S. has bent over backwards to respect our Constitution, which bans foreign military bases. That is complete hogwash.
No wonder Obama was so defensive in claiming that the pact isn't designed to contain China. This is part of the America's new global war strategy: Perhaps the enemy is North Korea, but then it could also conceivably be China.
The features of the pact are essential elements of America global war strategy, which has been altered in large part due to the lessons of the Gulf and Iraq wars. One lesson is that America's military might require massive pre-positioning war material and supplies. It's the old lesson of Napoleon Bonaparte: "An army marches on its stomach."
Helping fill the stomachs of American troops
As part of this new U.S. global strategy, to which Aquino's military pact closely hews, the Philippines will help fill the stomachs of American troops, as it were, by being a territory where its supplies could be pre-positioned. This is the new buzzword in America's global war strategy.
America's former global superpower strategy, with its network of military bases around the world, was designed during the Cold War. Those plans involved massive nuclear strikes on the USSR and China via submarine-launched missiles (think "Subic") and bombers (think "Clark"). That kind of war among nuclear powers would obviously have been short.
In contrast, the lessons of the Gulf War and the Afghanistan and Iraq invasions was that wars America wages in the 21st century will be long conventional wars that would require long and massive supply lines. From the Vietnam war, the U.S. learned that the longer the war takes, the more likely public opinion will turn against it, forcing U.S. leaders to end it quickly.
The Turkish Parliament's refusal to allow the U.S. to attack Iraq using its air bases in 2001 became a major logistical problem for the Americans, and was purportedly one of the reasons for a delay in its invasion.
Posted By Worldmeets.US
As explained by the U.S. Government Accountability Office [GAO] in September 2007:
"With fewer troops permanently stationed overseas, prepositioned stocks of equipment and supplies have become an integral part of the Department of Defense's ability to project forces into conflict areas faster. The importance of prepositioned stocks to the U.S. military was highlighted during recent operations in Iraq. The military used equipment and supplies stored at land sites in the region and offloaded much of the stocks from its prepositioning ships.
"The availability of the sites gave the United States the facilities it needed to assemble forces for combat.
"Recognizing the importance of the department's prepositioning programs, Congress has made significant investments in these programs. In recent years, the services have collectively used over $1 billion each year to operate and maintain their prepositioning programs; by fiscal year 2005 this amount had declined to about $724 million, since a large portion of these stocks were used to support military operations in Iraq. However, billions of dollars in future investments will be needed to recapitalize equipment and develop future programs. The recently published National Defense Strategy indicates that prepositioning will continue to be an important aspect of DOD's defense posture in the future."
The  GAO was referring to Defense Department's March 2008 document entitled "The National Defense Strategy of the United States of America" which summarized the US new global war strategy for the 21st century.
Calibrated stance vis-à-vis China
Obama's "pivot to Asia," its calibrated stance vis-à-vis China's expansionist claims in the South China Sea, and Aquino's "enhanced" defense agreement with the U.S. are all derived from this March 2008 document.
The document even identified as one of the U.S. military's four "forward regions" - areas where its military might must be felt - "the East Asian Littoral," which is where China claims a huge swathe of territory, covered by its infamous 9-dash line, also called China's "Ox's Tongue" territory.
I'm sure the Chinese are avid readers the new U.S. global defense strategy, and it will be obvious to them what Aquino's military pact with the U.S. fits in with it.
Nice job, President Aquino. We just raised the tension a few notches between our country and China. I hope we get something out of it, as there isn't any mention that the agreement requires monetary compensation for the use of land and facilities of our armed forces.
What Obama just said at their joint press conference was that he'll ask his officials to organize a U.S. business contingent to the Philippines at some time to come. Great, and thank you, Mr. Obama!
I'll explain more about the new U.S. global strategy and how Aquino's pact is a mere execution of it on Friday, with verbatim quotes from U.S. military literature.
tiglao.manilatimes@gmail.com
SEE ALSO ON THIS:
Manila Times, The Philippines: Filipinos, African-Americans and the 'Black Man's Burden'
Philippine Daily Inquirer: Except for his Dark Skin, Obama Can Do No Wrong in Philippines
Sankei Shimbun, Japan: Whaling Advocate Wants Obama Served Whale Meat
People's Daily, China: Who are Obama and Hagel to Preach 'Responsibility' to China?
Xinhua, China: Japanese Right 'Hijacking' Obama's Asia Pivot
Huanqiu, China: Hagel Must Be Told: China is Not Russia
Global Times, China: Biden Should 'Show Kindness' Toward China
Daily Tribune, Philippines: China ADZ 'Should Not Have Been Done': Philippines Defense Chief
People's Daily, China: U.S. and Japan Must Be Shown: 'White is Not Black'
Global Times, China: Continued Dependence on America is Bad for Japan
Huanqui, China: China Must Show 'Courage of its Convictions' in Face of Japan-U.S. Hostility
Huanqui, China: For Helping America Return to Asia, Vietnam will 'Feel China's Pain'
Huanqui, China: Confronting America Requires Wisdom and Stamina – Not Warships
Global Times, China: China Must Draw a Red Line Against U.S. 'Encirclement'
Global Times, China: Vietnamese Should Beware of U.S.' 'Suspicious Cozying Up'
Mainichi Shimbun, Japan: China 'Must Not Be Permitted' to Push Around Neighbors
Global Times, China: America 'Disqualified' as Global Human Rights Judge
Xinhua, China: Human Rights Record of the United States in 2011
Rodong Sinmun, North Korea: America by Far World's Leading Human Rights Abuser
Yezhednevniy Zhurnal, Russia: Putin is Mistaken to Favor China Over the United States
Huanqiu, China: U.S. Should Keep its Nuclear Weapons Away from Koreas
Global Times, China: America 'Disqualified' as Global Human Rights Judge
Ibaraki Shimbun, Japan: Embarrassing Words of Japan's Leaders 'Ring Absurdly Hollow'
Mainichi Shimbun, Japan: Oliver Stone Tells Japan: 'Admit Wrongs; Stand Up to U.S.'
Asahi Shimbun, Japan: Oliver Stone Urges Young Japanese to Learn Their History
Global Times, China: China Must Warn the World of Japan's Growing 'Insanity'
The Hankyoreh, South Korean: On Korean Independence Day, Japan Must Admit to its Crimes
JoongAng Ilbo, South Korean: Like Germans and Nazis, Japanese Must Admit to Imperial Crimes
Nara Shimbun, Japan: Japanese Must Continue to Lead 'Battle' to Abolish War
JoongAng Ilbo, South Korea: U.S. Shielding of Emperor Hirohito Behind Japan's Denial of History
Rue 89, France: Prime Minister Shinzo Abe is a Threat to Democratic Japan
Japan Times, Japan: Osaka Mayor Refuses to Retract 'Comfort Women' Remarks
J-Cast, Japan: Why Further Humiliate 'Comfort Women' by Calling them 'Sex Slaves'?
Ryukyu Shimpo, Japan: Abe to Humiliate Okinawa with 'Restoration of Sovereignty Day'
J-Cast, Japan: Why Further Humiliate 'Comfort Women' by Calling them 'Sex Slaves'?
Hokkaido Shimbun, Japan: Shinzo Abe Must End Gamesmanship Over Post-War Constitution
Iwate Nippo, Japan: Imposed 66 Years Ago, Time Has Come to Revise 'Pacific Constitution'
Ryukyu Shimpo Shimbun, Japan: Okinawans Will Not be 'Pawned Away' to Curry U.S. Favor
Okinawa Times, Japan: Futenma Relocation Plan a 'Slap in the Face' to Okinawa People
Ryukyu Shimpo Shimbun, Japan: Battle of Okinawa Victims Deserve Better from Government
Okinawa Times, Japan: Okinawans will 'Spew Magma' Over Crimes of U.S. Forces
Global Times, China: Continued Dependence on America is Bad for Japan
Ibaraki Shimbun, Japan: After Osprey Deployment, Japan Government 'Cannot Be Trusted'
Chunichi Shimbun, Japan: On Okinawa Battle Anniversary, People Feel Abandoned
Ryukyu Shimpo, Japan: Okinawans 'Unswervingly' Against 'Defective' Osprey
Tokushima Shimbun, Japan: Okinawa Deserves Freedom from American Bases
Yomiuri Shimbun, Japan: Okinawa Governor 'Adament' About Osprey
Asahi Shimbun, Japan: Opposition to Osprey Deployment Grows
The Okinawa Times, Japan: It's Time to End Japan's 'Servitude to America'
Nishinippon Shimbun, Japan: It's Imperative for Japan to Look Outward Again
Nishinippon Shimbun, Japan: Revise 'Inequitous' U.S.-Japan Security Deal
Ryukyu Shimpo Shimbun, Japan: After Quake, Japan Can Ill Afford U.S. Base Repair
People's Daily, China: Australia Should Avoid Helping U.S. Hurt China's Interests
Australia: Aussie Coverage of Obama's Visit to Darwin; His Challenge to China
Isen Shimbun, Japan: Despite its Mistakes, Japan Needs U.S. More than Ever
blog comments powered by Disqus
Posted By Worldmeets.US Apr. 30, 2014 12:23am