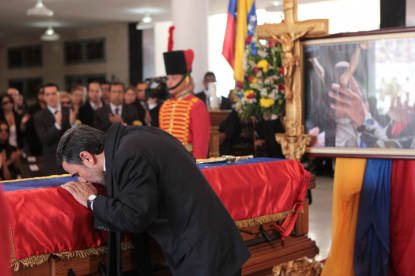 President Mahmoud Ahmadinejad pays his respects to his old friend, Hugo
Chavez, by kissing his casket, at the funeral for the Venezuelan president.
Ahmadinejad: 'Death of Chavez will Not Harm Venezuela Ties' (Kayhan, Islamic Republic of Iran)
Were Iran's relations with Venezuela based on more than a personal relationship between Iran President Mahmoud Ahmadinejad and Hugo Chavez, who dies last week of cancer? Seeking to dispel any such notion, this news item from Iran's state-run Kayhan quotes Ahmadinejad and his vice president as insisting that such relations are based on 'anti-imperialism' - and not personalities.
March 15, 2013
Islamic Republic of Iran - Kayhan - Home Page (English)
TEHRAN: The passing of President Hugo Chavez will not undermine relations between Tehran and Latin American countries, President Mahmoud Ahmadinejad said after returning from a two-day visit to Venezuela, where he attended the funeral of President Hugo Chavez.
"The Iranian nation has strong bonds with other revolutionary nations and … no one should think a vacuum will emerge in relations due to the death of Chavez," the Iranian president said.
The Iranian government declared a national day of mourning last Wednesday over the cancer-related death of the Venezuelan president. In Caracas, Ahmadinejad, during a meeting with his Bolivian counterpart Evo Morales, lauded Latin America's campaign against imperialism.
Ahmadinejad said that thanks to Hugo Chavez, Latin American nations have awakened, and the dominance of imperialism has declined. And the president said that the number of revolutionary leaders in the region rises by the day.
Bolivian President Evo Morales, for his part, hailed the resistance of the Iranian nation to imperialism. "Bolivia sees itself on the side of the Iranian nation, and in the campaign against imperialism, extends its hand of solidarity. ... We should boost cooperation and coordination against imperialism on a daily basis," Morales said.
Ahmadinejad warned global imperialism that more leaders would continue down the path of the late Venezuelan president. "Although the leaders of imperialism may be pleased with the absence of Chavez, and imagine that a void has opened up, their happiness will dissipate quickly, since there are great men who will continue in Chavez' path," he said.
Chavez died March 5 at the age of 58, after a two-year battle with cancer.
He founded the movement of the Bolivarian Revolution to establish popular democracy and economic independence, and to more equitably distribute wealth in Latin America. Chavez was a key player in the progressive movement that has swept Latin America.
Elsewhere in his remarks, Ahmadinejad called for the strengthening of Iran-Bolivia ties in the path of progress and establishment of global justice. "Iran is proud of the revolutionary leaders and resilient peoples of Latin America."
Meanwhile, Vice President Ali Saeedlou rejected Western media reports that the death of the former Venezuelan president may adversely affect Tehran-Caracas relations, calling them rank speculation.
The official noted that the people of Latin America have long been dominated by imperialism, and with Chavez overseeing their struggle and making its more objective, have fought for decolonization.
Posted By Worldmeets.US
Like Worldmeets.US on Facebook
SEE ALSO ON THIS:
El Universal, Venezuela: Electoral Martyrdom and the Cult of Hugo Chavez
Juventud Rebelde, Cuba: Hugo Chavez Brought 'Era of the Wealth-Centric' to an End
Ahora, Cuba: Glory to the 'Irreversible' and 'Immortal' Hugo Chavez!
Guardian Unlimited, U.K.: Claim that Chavez will be Resurrected with Jesus 'Went Too Far'
El Nacional, Venezuela: Maduro Asserts: U.S. 'Infected' Chavez with Deadly Illness
Novosti, Russia: With Chavez' Death, Communist Chief Sees a U.S. 'Cancer' Plot
Carta Maior, Brazil: Why the Right 'Hates' Latin America
Ahora, Cuba: What Barack Obama Should Be Told about Hugo Chavez
La Tercera, Chile: Death of Hugo Chavez Opens Way for Democratic Recovery in Venezuela
La Razon, Bolivia: President Morales Says 'Empire Has All the Tools' to Poison Chavez
Guardian, U.K.: Death of Chavez Brings Chance of Fresh Start for U.S. and Latin America
Global Times, China: Demonized by the West, Hugo Chavez was a Friend to China
Mehr News Agency, Iran: Ahmadinejad: Chavez Will Be 'Resurrected with Christ the Savior'
Guardian Unlimited, U.K.: Claim that Chavez will be Resurrected with Jesus 'Went Too Far'
El Nacional, Venezuela: Maduro Asserts: U.S. 'Infected' Chavez with Deadly Illness
Novosti, Russia: With Chavez' Death, Communist Chief Sees a U.S. 'Cancer' Plot
La Voz Mundo, Venezuela: Facing Reelection Fight, Hugo Chavez Plays 'Obama Card'
Diario de Cuyo, Argentina: Hugo Chavez and Barack Obama: A Common Electoral Challenge
El Tiempo, Colombia: What Good is Our New, U.S.-Free 'Community'?
Estadao, Brazil: In Latin America, Rhetoric Triumphs Over Reality
La Razon, Bolivia: Latin America Has Excluded the U.S. … So What Now?
ABC, Spain: Hugo Chavez Calls Terrorism Indictment a U.S.-Spanish Plot
Folha, Brazil: Latin American Unity Cannot Be Dependent on Excluding the U.S.
La Jornada, Mexico: Latin America's March Toward 'Autonomy from Imperial Center'
La Jornada, Mexico: Militarization of Latin America: Obama 'Ahead of Bush'
O Globo, Brazil: U.S. Navy Shows That What U.S. Can Do, Brazil Can Also Do
Clarin, Argentina: Resurrected U.S. Fourth Fleet Creates Suspicion Across South America
Le Figaro, France: U.S. Navy 'Resurrects' Fourth Fleet to Patrol Latin America
Semana, Colombia: Hugo Chávez Isn't 'Paranoid' to Fear the U.S. Marines
Tal Cual, Venezuela: President Chavez 'Puts Early End' to Honeymoon with Obama
El Universal, Venezuela: Obama is No 'Black in Chavez' Pocket'
Gazeta, Russia: Latin Americans Will Sooner or Later Come 'Crawling' to the U.S.
Gazeta, Russia: Castro and Chavez Split Over Obama
El Tiempo, Colombia: 'Tropical Napoleon' Melts Before Obama's 'Empire'
El Tiempo, Colombia: Survey: Obama 'Most Popular Leader' in the Americas
El Espectador, Colombia: Cuba in Obama's Sights
El Mundo, Colombia: Obama: A Man Who Takes His Promises Seriously
La Razon, Bolivia: President Morales Suspects U.S. Behind Attempt on His Life
"It is wrong to say that our relations with Venezuela are based on a personal relationship. The Islamic Republic of Iran maintains deep-seated relations with all nations, particularly in Latin America," Saeedlou added.
Iran and Venezuela have forged strong economic and political ties in the recent years.
Leaders of some Latin American countries have in recent years built up diplomatic and trade ties with Iran, while their relations with the United States have been greatly reduced amid popular demands for an end to dependence on Washington.
blog comments powered by
Posted By Worldmeets.US Mar. 15, 2013, 6:42am