In his final appearance before the U.N. General Assembly,
President Mahmoud Ahmadinejad insisted that the 12th
Imam will soon arrive to punish his enemies and herald a
marvelous new age, Sept. 26.
President Ahmadinejad Tells U.N.: the 'Ultimate Savior' is Coming - with Christ (Kayhan, Islamic Republic of Iran)
Is the world on the cusp of supernatural changes heralded by the return of the 12th Imam, who disappeared almost 1,000 years ago - also known as the Mahdi? In one of the most theological speeches ever to be heard at the opening of the U.N. General Assembly, this news item from Iran's Kayhan newspaper reports that that President Mahmoud Ahmadinejad once again struck out at 'Zionism' and the 'World Arrogance', promising that their evil activities would soon come to an end with the Mahdi's arrival.
September 28, 2012
Islamic Republic of Iran - Kayhan - Home Page (English)
NEW YORK: President Mahmoud Ahmadinejad on Wednesday called for a new world order absent the "hegemony of arrogance."
In his annual address to the U.N. General Assembly, the president cited the "continued threat by the uncivilized Zionists to resort to military action against our great nation is a clear example of this bitter reality."
"The arms race and intimidation by nuclear weapons and weapons of mass destruction by the hegemonic powers have become prevalent," Ahmadinejad said.
The president also lashed out at Western nations for the global economic crisis.
"Using influence and control over the world's economic centers to create worthless paper assets constitutes history's greatest abuse, and is a major contributor to the global economic crisis," he said.
Ahmadinejad wrapped up his address by hailing the imminent arrival of the "Ultimate Savior."
"God Almighty has promised us a man of kindness," the president told world leaders and senior officials in New York.
Ahmadinejad said that the Savior is a man who "loves people and loves absolute justice, is a perfect human being and is named Imam Mahdi, who will come in the company of Jesus Christ and the righteous."
So Shiite Islam's Twelfth Imam, who disappeared from the earth in the tenth century, will return to save mankind.
"Now we can sense the sweet scent and soulful breeze of spring - a spring that has just begun," Ahmadinejad said.
The president said Imam Mahdi's return will be a blessing to all, not just "a specific race, ethnicity, nation or a region, a spring that will soon reach all territories in Asia, Europe, Africa and the U.S."
"Long live this spring. Long live this spring. Again and again, long live this spring," he declared, to a smattering of applause from dignitaries.
"The arrival of the ultimate savior, Jesus Christ and the righteous, will bring about an eternally bright future for mankind, not by force or waging wars, but through thought-awakening and the development of kindness in everyone.
"Their arrival will breathe new life into the frozen body of the world. He will bless humanity with a spring that puts an end to the winter of ignorance, poverty and war, with the tidings of a season of blooming.
"With empathy and cooperation, in harmony and unity, let us join hands and clear the way for his eventual arrival. Let us march on this path to salvation for the sake of the thirsty souls of humanity tasting immortal joy and grace."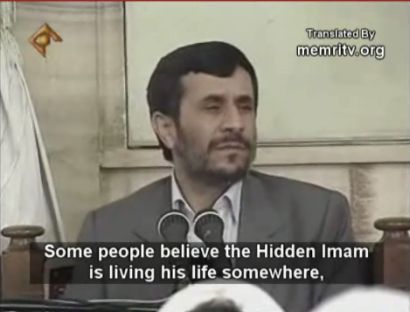 President Ahmadinejad explains why America attacked Iraq:
To prevent the emergence of the Mahdi, in May 2008.
CLICK HERE OR CLICK PHOTO TO WATCH
Like Worldmeets.US on Facebook
Before his address, Ahmadinejad said a new world order needed to emerge, away from years of what he called "American bullying and domination."
Ahmadinejad, in a wide-ranging interview on the sidelines of the United Nations General Assembly, his last as president of Iran, spoke to The Associated Press.
"God willing, a new order will come together and we'll do away with everything that distances us," Ahmadinejad said, speaking through a translator. "I do believe the system of empires has reached the end of the road. The world can no longer see an emperor in command."
"Now even school children throughout the world understand that the United States government follows an international policy of bullying," he said.
Ahmadinejad said the U.S.-led outcry over Iran's nuclear enrichment program is just a Western excuse to dominate his country. He said since the 1979 Islamic Revolution, the United States has never accepted Iran's choice of government.
"Everyone is aware that the nuclear issue is an imposition of the will of the United States," he said. "I see this as a non-issue. It has become just a form of one-upmanship."
Ahmadinejad said he favors more dialogue, even though negotiations with the West remain stalled after three rounds of high-level meetings since April, and he said that some world leaders have suggested to him that Iran would be better off holding bilateral nuclear talks with the United States.
Asked if he is open to discussions with the winner of the American presidential election, he said, "Of course I'm not dismissing such talks."
Ahmadinejad also proposed forming a new group of 10 or 11 countries to work to end the 18-month-old Syrian war. Representatives of nations in the Middle East and elsewhere would meet in New York "very soon," he said.
He also said that the so-called contact group hopes to get the Syrian government and opposition to sit across from each other.
SEE ALSO ON THIS:
Kayhan, Iran: The Mahdi is Reappearing to Rid World of 'Devils in Human Form'
Die Welt, Germany: Ahmadinejad Announces Iranian Plans to 'Administer the World'
Iraq of Tomorrow, Iraq: Ahmadinejad Told to 'Corroborate' American Threat to the 'Mahdi'
Kayhan, Iran: Ahmadinejad: Egypt Revolution Reveals Hand of the 'Mahdi'
FARS News, Iran: Khamenei: Muslim Hatred of the 'Enemies' is a 'Wonderful' Thing
FARS News, Iran: Iran Commander Warns Attack Could Trigger 'World War III'
"I will do everything in my power to create stability, peace and understanding in Syria," Ahmadinejad said.
Earlier this month, Egyptian President Mohammed Morsi announced the formation of a four-member contact group with Iran, Turkey and Saudi Arabia. But Saudi Arabia has so far not participated.
Ahmadinejad said that since his 2005 election, Iran has gone from being the world's 22nd-largest economy to the 17th-largest; non-petroleum related exports have increased sevenfold; the production of basic goods has doubled; and median income increased by $4,000.
Posted by Worldmeets.US
"In terms of the economy, technical achievement, and scientific know-how, conditions in Iran today are completely different to where they were seven years ago," Ahmadinejad said. "And all of these achievements have been reached under conditions that were brought under heavy sanctions."
Ahmadinejad also said he had no knowledge of the whereabouts of Robert Levinson, a private investigator and former FBI agent who vanished five years ago. He said that two years ago, he directed Iranian intelligence to work with their counterparts in the U.S. to locate him.
"If there is any help I can bring to bear, I would be happy to do so," he said.
YOUR DONATION MAKES OUR WORK AS
A NON-PROFIT POSSIBLE. THANK YOU.